RPG LLC
---
Our staff have been providing a wide range of effective socially interactive experiential services since 1983!
Services include:
Online Role-Playing Games

Accessibility advocacy

Cooperative music & drum circles

Educational

Entertainment

Mobile gaming & cooperative music events at your doorstep

Parties, birthdays, special events, camps, retreats, & more

Publishing


Recreational

Role-playing games (tabletop, live-action, electronic, & hybrids)

Therapeutic programs for ages 2 through senior adults

& much more!

Accessible & Inclusive
---
We have been providing accessible & inclusive services for decades.
One of our unique offerings, not found anywhere else in the world, is our fleet of wheelchair accessible mobile facilities.
In addition to our online virtual services since 1996,
we can bring in-person accessible mobile facilities and the activities
right to your door step, facility parking lot, or even remote rural locations!
Cooperative Music
---
We offer cooperative music & drum circle programs as well!
Experience the power of experiential social activities through cooperative music jams and drum circles appropriate for ages 2 years old through senior adults & everyone in between!
Education & Workshops
---
We offer programs in educational settings such as preschool, K-12,
special education, & higher learning facilities.
We also offer educational workshops to train professionals to bring music & role-playing game programs into your own facilities or practice.
Entertainment
& Live Streaming
---
We have been involved with media & entertainment professional services since 1992,
and online streaming since 1996!
Need entertainment services for your event?
Need help putting together online entertainment events?
We can help!
RPG and/or Music
Events & Parties
---
Parties, birthdays, special events, camps, retreats, & more

Online Social
Games & Events
---
Online social cooperative tabletop games,
online conferences, conventions, parties, & more

Conventions
---
We have organized and hosted, and consulted on conventions, conferences, and large events with participant numbers ranging from 10 to 10,000+ participants!
We also have decades of experience creating and hosting large virtual events!
Role-playing Games
---
Our staff has been in involved with role-playing gaming since the 1970s! We have provided professional paid game master services since 1983!
If you are looking for a truly exceptional RPG experience, whether tabletop (TRPG/TTRPG), live-action (larp), electronic, or hybrids, we have more experience than any other organization providing these recreational services.
You can join existing sessions, or request putting together your own group with one of our highly trained game masters. All of our game masters have completed years of rigorous training, and regular background checks, so you know you'll be safe while you and your friends have fun!
Role-Playing Game Therapy
---
We have been involved with role-playing games since 1977! We have been researching the effects of role-playing games since 1983. We have been running RPG programs for schools & other educational settings since 1985.
We have been providing therapeutic RPG programs since 2004.
Role-playing Game Therapy is a powerful experiential social modality that helps address a wide range of needs for a broad range of populations.
We provide Therapeutic Role-Playing Game sessions for ages 2 years old through senior adults, and all ages in between.
RPG Therapy is not for everyone, and you will need to complete an assessment form to determine if one or more of our Therapeutic RPG programs is right for you.
Extensive Experience, Proven Methodologies, Effective Modalities, and Measurable Results
RPG Therapeutics's Founder and President, Hawke Robinson is known as the "grandfather of therapeutic gaming. He has been tracking and involved in the therapeutic and educational application of role-playing games longer than anyone else." -- Adam Johns, Game to Grow, Executive Director, Lead Facilitator, 2018.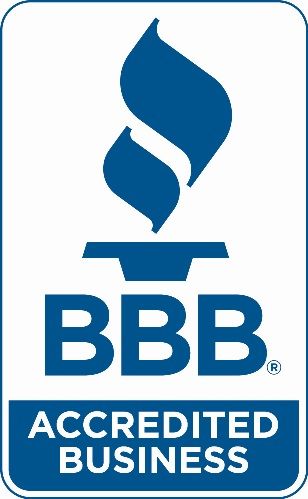 RPG Therapeutics LLC / RPG.LLC is a Better Business Bureau (BBB) Accredited business.
Our president and founder, Hawke Robinson, is introduced at professional conferences, fan conventions, and known by professional peers as "...the grandfather of therapeutic gaming. He has been tracking and involved in the therapeutic and educational application of role-playing games longer than anyone else." –Adam Johns, Game to Grow, Executive Director, Lead Facilitator.
VERIFIED BY PSYCHOLOGY TODAY

RPG Therapeutics LLC is a Psychology Today Verified Professional Services Provider
https://www.psychologytoday.com/profile/378780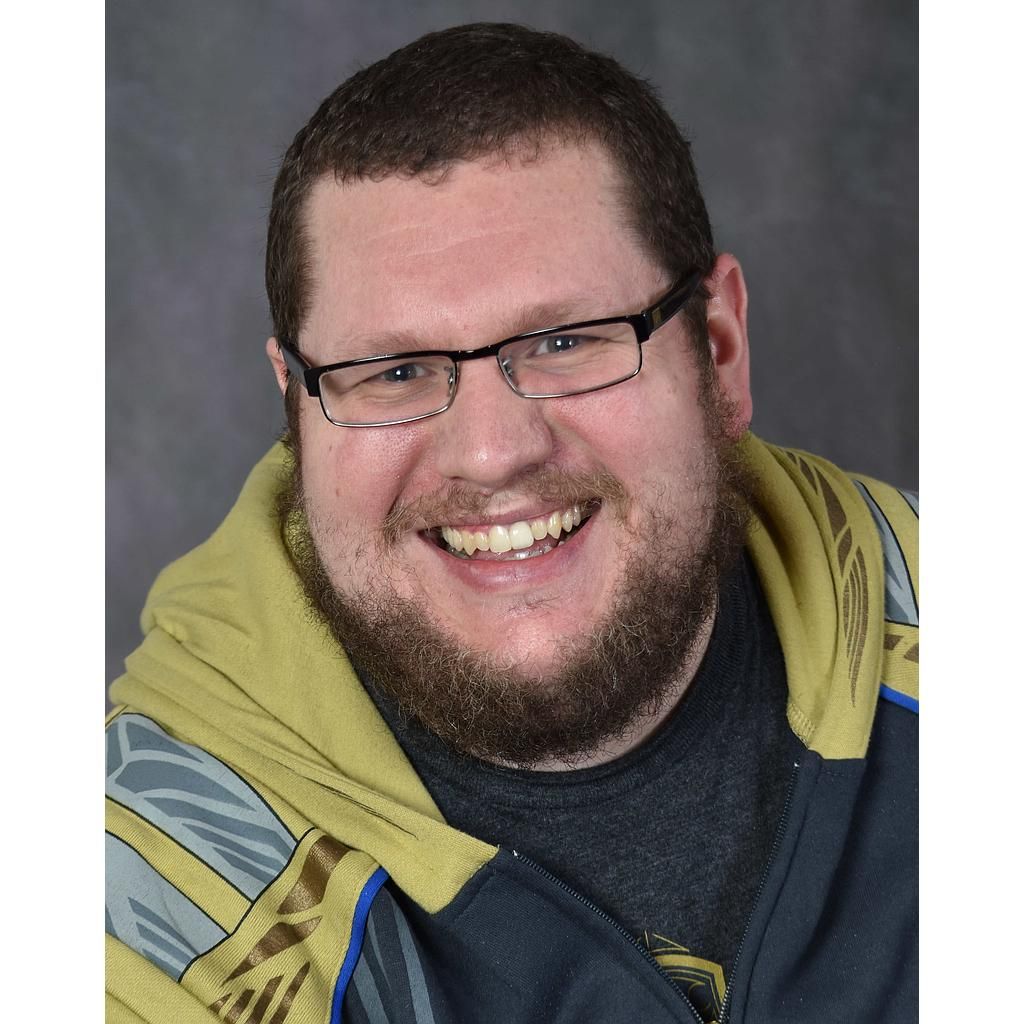 David Griffith
Professional Role-playing Game Master (Level 1) and therapeutic GM trainee. Learn More.
"We improve lives through cooperative music, recreation therapy, role-playing games, experiential, and exploratory interactive adventure modalities." Secure and private only options always available.


New Revised Level 1 Training Workbook Now Available
Published by RPG Publishers dba, directly supporting RPG Research's free volunteer training programs, and RPG.LLC's professional training services, the latest enhanced and revised edition of this workbook is now available as of February 26th, 2021!
BUY THE LEVEL 1 TRAINING WORKBOOK ON AMAZON TODAY!
Note, 20% of all profits from sales of this book are donated by RPG Publishers dba to RPG Research. Also note the link goes to smile.amazon.com, select RPG Research as your charity of choice from the list, and then whenever you shop on smile.amazon.com a small percentage of all your shopping will be donated by Amazon.com to RPG Research at no added cost to you!
On sale now through Amazon Special Preview Release as physical workbook and Kindle eBook.
Learn more about the Role-Playing Game Professionals Training Workbook here. Includes FAQ, chapter outline, and example content.
The Amazon Preview Edition physical version is available for $19.99 and the eBook for for $9.99.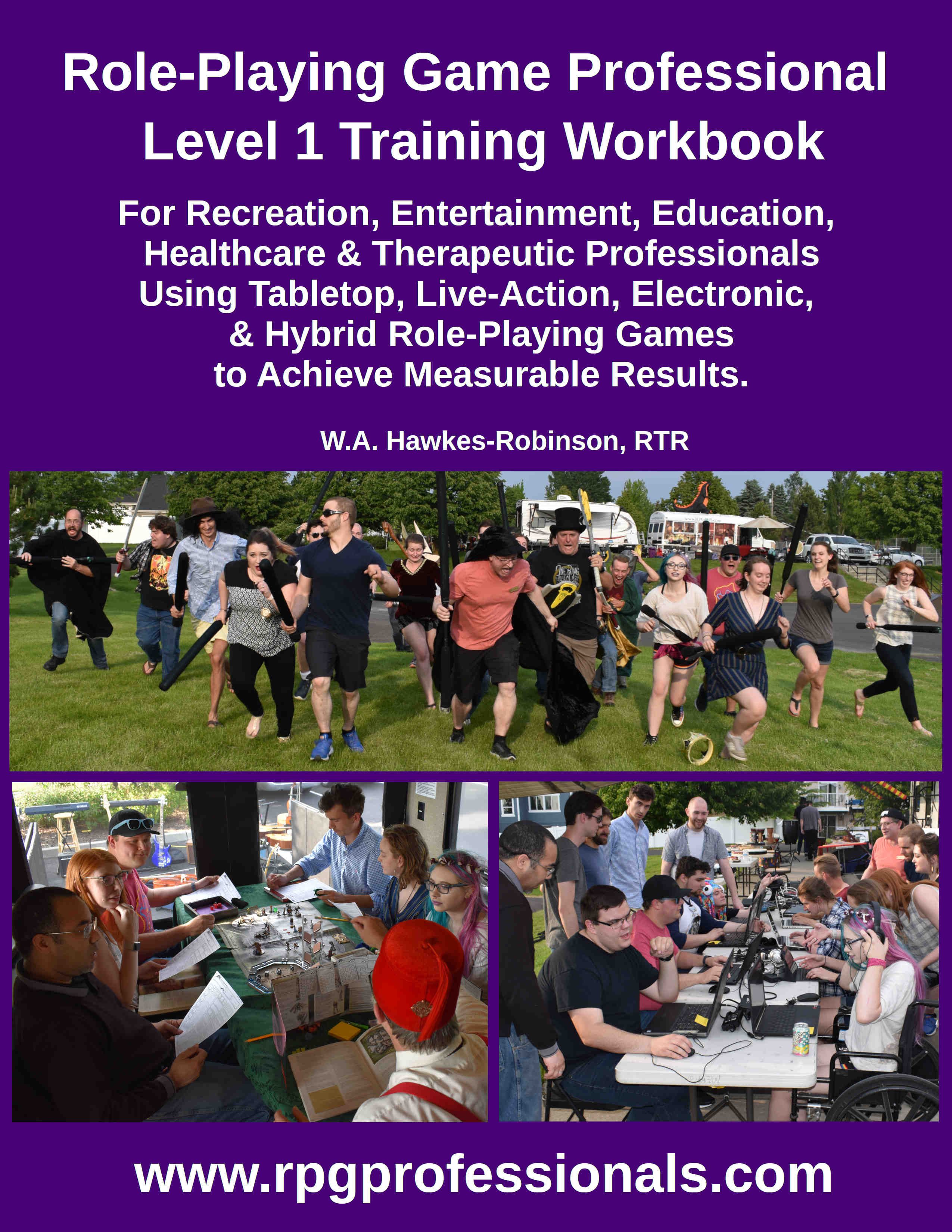 NOTE: WE ARE CURRENTLY VERY BUSY WITH OUR TRAINING PROGRAMS FOR THE PBS NETWORK EMPLOYEES. WE WILL BE ACCEPTING NEW WORKSHOP AND ONLINE EDUCATION REGISTRATIONS LATE MARCH 2021. WE ARE STILL ACCEPTING NEW THERAPEUTIC CLIENTS ON A CASE-BY-CASE BASIS.
ABOUT RPG LLC
We use cooperative music, recreation, and role-playing games to improve lives.
We are a team of passionate professionals whose goal is to improve everyone's life through research-and-evidence-in-practice-supported experiential social programs, helping improve lives for people all around the world!

We have been involved with role-playing games since 1977. Including all formats: tabletop, live-action, electronic, and hybrid. Using RPGs in educational settings since 1985, with incarcerated populations since 1989, nursing, long-term care, and habilitation settings since 1990, and in therapeutic and mental health settings since 2004. We have been involved with recreation therapy (aka therapeutic recreation), and cooperative music programs since 2004,
See our Services Page for our business hours and program offerings.
We provide an extensive array of services, including: recreational, entertainment, educational, publishing, adaptive accessibility, consulting, and therapeutic. Learn more about:
Online Training & Service Options
RPG.LLC's staff have been providing private, secure, online options for most of our services since 1996!
Our business hours currently listed are for phone calls to schedule events or sessions, and for our virtual services.
Due to COVID-19 restrictions, we currently cannot accept people at our office locations in-person, but we are here to serve you 7 days a week through our mobile and online services!
You can engage in our services virtually through our own private, securely hosted online facilities.
Training Services
The World's Highest Quality Training for RPG Professionals
16 Session Level 1 Certification
The industries highest level of training, no other programs even come close. Receive the industry's most rigorous, deep, broad, research and evidence-in-practice backed role-playing game professional training program. Rigorous hands-on, peer-reviewed training.
Workshop intensives
Specific workshop modules to target specific goals for professionals in recreation, education, entertainment, healthcare & therapeutic professions.
Online Self-paced Training & Testing
Take self-paced online training & testing through rpg.education.
Professional Training Workbooks
See www.rpgworkbook.com for more details and purchasing options.
Therapeutic Services
Backed by over 40 years of experience, research, & evidence-in-practice.
Group Programs
Various age groups from 2 years old through senior adults. Group programs range from $30 to $90 per hour per person.
Individual Programs
Customized targeted, assessment-supported, individual programs (with additional staff provided as needed to create group environment as needed). $120/hr. Insurance covered may apply only if your provider covers Therapeutic Recreation or Recreation Therapy. We offer may payment options including cash, check, card, paypal, and payment plan options.