Therapeutic Service Offerings
Therapeutic Service Offerings
RPG Therapy and much more.

Therapeutic Services
Our proven programs based on real research and evidence-in-practice, and backed by over 40 years of experience.



We are multidisciplinary, drawing from Music and Recreational Therapy, Therapeutic Recreation, Compassion Focused Therapy (CFG), Cognitive Neuropsychology, and neurosciences.
Our programs take a whole-person wellness-based bio-psycho-emotional-social approach with all our clients.
"Holistic medicine treats the person rather than the disease,
it's concern lies with the 'whole person' and with permitting
individuals to assume self-responsibility for their own health.
Whereas illness is the sole concern of 'traditional medicine',
holistic 'well medicine' deals with wellness and health promotion"
Individual Programs
Customized, targeted, assessment-supported, individual programs (with additional staff provided as needed to create group environment as needed).
Couple and Group Programs
Various age groups from 2 years old through senior adults. Group programs range from $30 to $90 per hour, per person or per couple.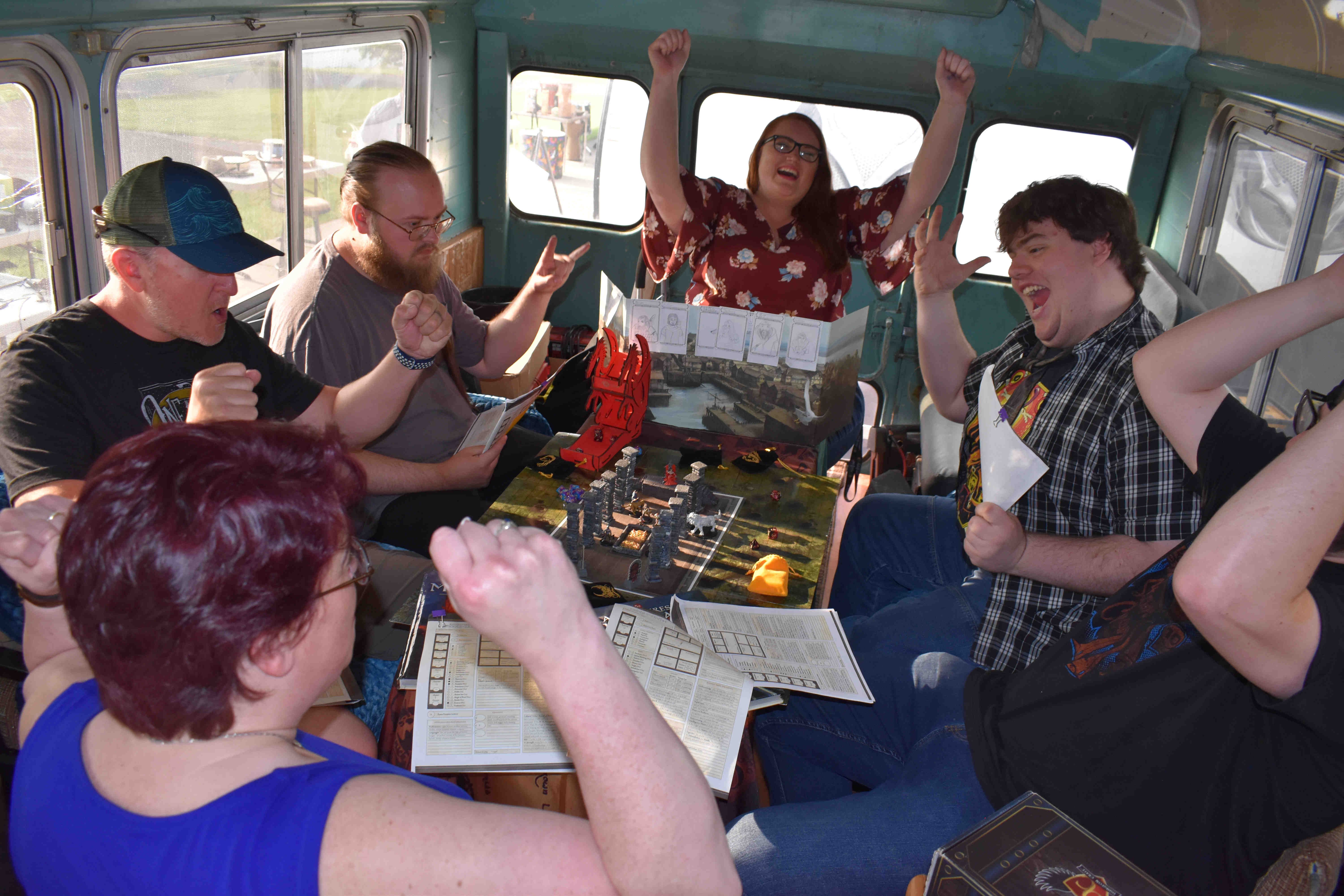 We are a Better Business Bureau Accredited Business.
Learn more About Us .
Select from our diverse range of therapeutic services.
All of RPG LLC's therapeutic services are provided under the name of RPG Therapeutics LLC.
Our programs are supported by over 40 years of research and evidence-in-practice experience, with staff that have been leading the industry for decades in the development and implementation of role-playing game programs.
We provide outpatient and intensive outpatient program (IOP) options through our offices, mobile facilities, and online. We can also provide services to clients located at other facilities, including: inpatient,partial hospitalization program (PHP), rehabilitation programs, rehabilitation transition programs, and residential programs.
We offer programs from ages 2 years old through senior adults, and everyone in between, for the following populations, diagnoses, or needs:
ADHD

Anger management

Anxiety

ASD (Autism Spectrum Disorder), including non-verbal.

Behavioral Issues

Blind and Visually Impaired (VI)

Cerebral Palsy

Deaf and Hard of Hearing (HoH)

Depression

Emotional Regulation

Dual diagnosis

Executive Functions (EF)

Existential Challenges / Crisis

Family Conflict

Gaming Addiction

Identity Development

Impulse Control

Learning Disability

Multiple Schlerosis

Muscular Dystrophy

Neurodevelopmental Disorders

Neuromuscular Disorders

Phobias (especially agoraphobia and social anxieties).

Relationship Issues

Self-esteem

Social Anxiety

Social Isolation

Stress

Suicidality

Trauma, Post-Traumatic Stress Disorder (PTSD) and Complex PTSD (CPTSD)

Traumatic Brain Injury (and other brain injuries)
All services are available through:
Our offices

Online secure private telehealth / teletherapy throughout the USA and other countries


Non-online prigrams primarily available in the greater Spokane and Northern Idaho region, but with prior arrangement we can also provide on site services at client and facility locations throughout the northwest USA (WA, ID, OR, MT).

Our mobile wheelchair accessible facilities across the Northwest USA and occasional country-wide tours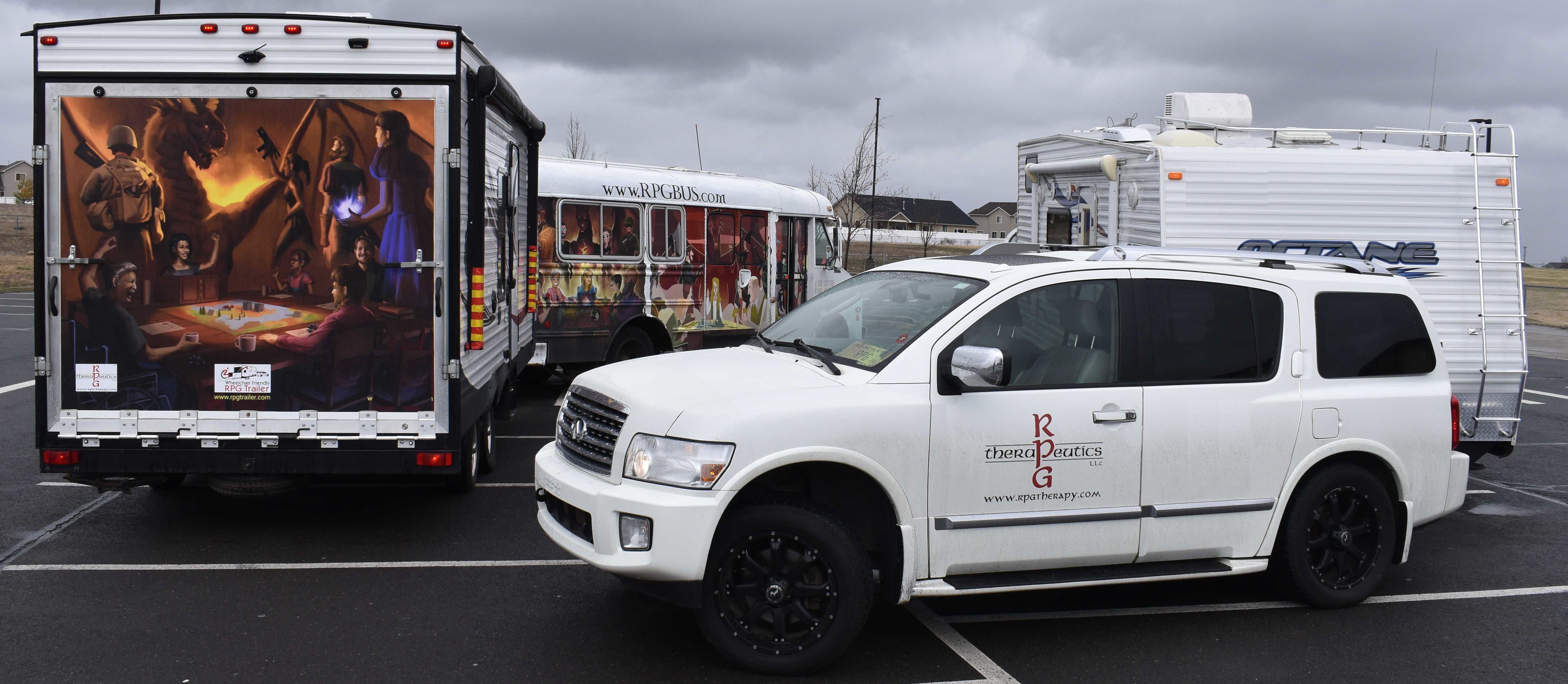 We offer a wide range of services, but our claim to fame is our industry revolutionary Role-Playing Game Therapy, drawing from more than fourty years of research and evidence-in-practice.
You can choose from our affordable and effective group services or our powerful individualized services that still provide group experiences through our highly trained staff.
Role-Playing Game Therapies
RPG Therapy: Decades of research and evidence-in-practice proves that our distinctive role-playing game-based therapeutic programs are powerful intervention modalities to help improve the function, mood, efficacy, social skills, and quality of life for people anywhere from 2 years old through senior adults, including a wide range of physical neural differences.
See our testimonials page for comments from those who have seen how effective our programs have been.
See our list of RPG Therapy Benefits page for more information on how our RPG Therapy Programs can help you and/or those your care about.
We provide a wide range of programs from any of the four main RPG Formats:
Tabletop (TRPG)

Live-action (LRPG & Larp)

Electronic (ERPG)

Various hybrids (HRPG)
We also offer music & recreation therapy programs, including but not limited to:
Drum circles

Drum circle facilitation training

Cooperative music jams

Introductory music training

Wide range of Recreational Therapy & Therapeutic Recreation activities as well
For more information feel free to:
or
Group Programs
Each month, depending on the participation numbers, we offer affordable group services under the watchful facilitation of our well-trained RPG Professionals. Schedule, pricing, duration, and goals vary depending on the program. See our Events Listing for any openings.
If you do not see any current openings in our group programs, Contact Us to be placed on the waiting list for the next opening.
See our Rates Page for information on the program pricing guidelines.
In-person groups

Individual programs

Mobile facilities

Client on-site locations

Online options
For more information feel free to:
or

Couples Programs
The first step is to Contact Us or schedule a 15-30 minute call with you and your S.O. to discuss the challenges and
goals you two are hoping to address, to explain our approach, and answer any questions you may have.
If you decide you wish to proceed with our programs, there is a $100 intake fee per participant. This includes completing detailed
assessment questionnaires. We send you the application and assessment forms without charge, then when you have completed them, you
submit them either by postal mail or digital scan, along with the assessment payment. Once we receive and process your completed
application and assessment forms, we can schedule your first session, typically within 1-4 weeks. The assessment forms help us to determine
the best tools to use, and customizing the program to most effectively achieve your desired goals.
In addition to various recreational therapy, drum circle and music jams, and a variety of RPG formats (tabletop, live-action, and
electronic), we have two different Tabletop RPG program offerings relevant for couples.
One does not have a wait list, the other does have a wait list.
Non-wait-list Individually Customized Programs
For a personalized, highly targeted experience in a controlled environment, without a wait list, we offer a distinctive and highly
effective program with regular sessions consisting of you and your S.O.
For the individually targeted non-wait-list programs, we can provide services at our offices, online, mobile facilities, or in the comfort of
your own home or location of your choosing.
We provide 1-3 other experienced, trained, RPG Therapeutics staff members as fellow players to round out the group and one
more staff member to run the sessions as the Game Master. This provides the most intensive, customized, and targeted approach.
Session duration and frequency can be customized as needed, though it is recommended for sessions to be 3 hours if weekly, 4 hours if every-other week, or 6 hours if monthly. The total number of sessions will vary by each couple's goals and individual progress.
Weekly program series of this nature are typically 2 to 4 months. Every-other week for 4-6 months. And 6-12 months for monthly.
When a program series arc is completed, we perform an evaluation of efficacy.
If you wish to continue another series arc targeting an updated list of goals, you are always welcome to do so.
Each couples session costs $120 USD per hour ($360 to $480 per session).
A discount of 5-10% is available if prepaying 4 to 8 sessions in advance.
These sessions can be provided on a customized schedule. The commitment is open-ended (you may participate as long as
you wish). You will be run through a customized campaign specifically designed to target your goals, pre-and-post session processing
discussions, and also between-session tasks.
Wait-listed Standardized Programs
The alternative is that we put you on the wait list for the next available slot, depending on your list of goals and the results from
your assessment forms. We then attempt to pair you with another 1 to 2 couples (your choice of 1 or 2), including synchronizing everyone's schedules, and we provide 1-2 staff members as facilitator and GM. This approach requires a fixed commitment.
For wait-listed group sessions, these take place in our offices at 1312 North Monroe Street (or online via our private, secure, self-hosted,
customized web-based video conferencing platform), or with our mobile facilities (RPG Bus, RPG Trailers, etc.).
These are weekly 3-hour sessions, with a minimum commitment of 16 weeks for 2 couples (4 months) at $60/hr ($180 per
session, per couple), or 24 weeks for 3 couples (6 months) at $40/hr ($120 per session, per couple).
This approach uses campaigns that are known to address your goals in a general sense but are less individually customized, though every
effort is made to provide the closest matching program series.
There is typically a 1-3 month wait for these programs. There is a one-month up-front deposit commitment, to cover the first four
sessions, and to confirm your wait list status. This is 100% refundable after 3 months if your program has not started by 3 months from
when the deposit is paid in full. The deposit may be paid in installments if needed, but you will not be placed on the wait list
until the deposit is paid in full.
Insurance and Payment Considerations
For insurance billing our services are labeled as "Recreational Therapy" and/or "Therapeutic Recreation". Due to the
Affordable Care Act, as of 2016 most insurance companies no longer cover "alternative therapies" such as our services unless you have a
specific clause that mentions those services as a covered service. Some insurance providers may accept these as group counseling sessions.
You will need to consult your specific insurance provider to determine if they will cover our services.
For self-pay, payment is due at the time services are delivered.
Payment may be via:
* Cash
* Check
* Debit/Credit card
* Paypal
Feel free to contact us with any additional questions you may have. If you are interested in proceeding with the initial free 15-30 minute
consultation, please let us know and we will schedule with you shortly.
For more information feel free to:
or
Individual Programs
We offer a truly unique RPG Therapy Program for individuals. Our approach is proven to show noticeable and measurable results within a few sessions, and life-long benefits over the following weeks.
While other programs focus on fragile surface self-esteem-boosting, we focus on what really works; helping people become effective, healthy, self-sufficient, contributing, happy members of society.
We help clients develop the necessary skills to achieve proven self-efficacy, adaptive resilience, mindfulness, empathic awareness, compassion, realistic situational assessment, and competence, which leads to humble but sturdy self-confidence and socially connected highly effective individuals.
For more information feel free to:
or
Recreation Therapy & Therapeutic Recreation Services
Recreation Therapy (RT) and Therapeutic Recreation (TR) are powerful methodologies for using or adapting a wide range of recreational activities to achieve specific measurable goals for clients. Learn more about Recreational Therapy through the American Therapeutic Recreation Association (ATRA) website.
Group RT/TR Programs
Outdoor programs.

Sports-related programs.

Arts, craft, & hobby programs.

Creative writing programs.

Online RT/TR Group program options.
Individual RT/TR Programs
We can provide a individualized custom program matching your specific interests and abilities using recreational activities to help you achieve your bio-psycho-social goals in life.
In-person RT/TR Options.

Online RT/TR Individualized Program Options.
For more information feel free to:
or
Music Programs
Research shows that music is a powerful tool for development, mood, and some key skills development that is proven to lead to a wide range of life-long benefits for young and old alike.
We offer a variety of group and individual music programs.
Drum circles

Drum circle facilitation training

Cooperative music jams

Introductory music training
Group Programs
Cooperative Drum Circle Programs

Cooperative Music Jam Programs
Individual Programs
Individual instrument "jam sessions".
Individual music sessions targeting bio-psycho-social goals, going beyond just the mechanical and theory components and enhancing quality of life for the individual and those around them.
In-person Options

Online Options
For more information feel free to:
or