Role-Playing Game Professionals
This page helps provide a starting point for people interested in learning more about how to become paid professional in the role-playing game _services_ industry across recreation, entertainment, professional development, executive training, retreats, education, therapeutic and other healthcare fields of service.
Welcome to the Role-Playing Game Professionals introductory web page.
This page exists to help aspiring and current RPG Professionals find the resources they need to get started in a well-paying career as a professional game master in one or more disciplines.
Disciplines available for an RPG services professional include, but are not limited to:
recreation and leisure services

community

entertainment

professional development

education

therapeutic and other healthcare settings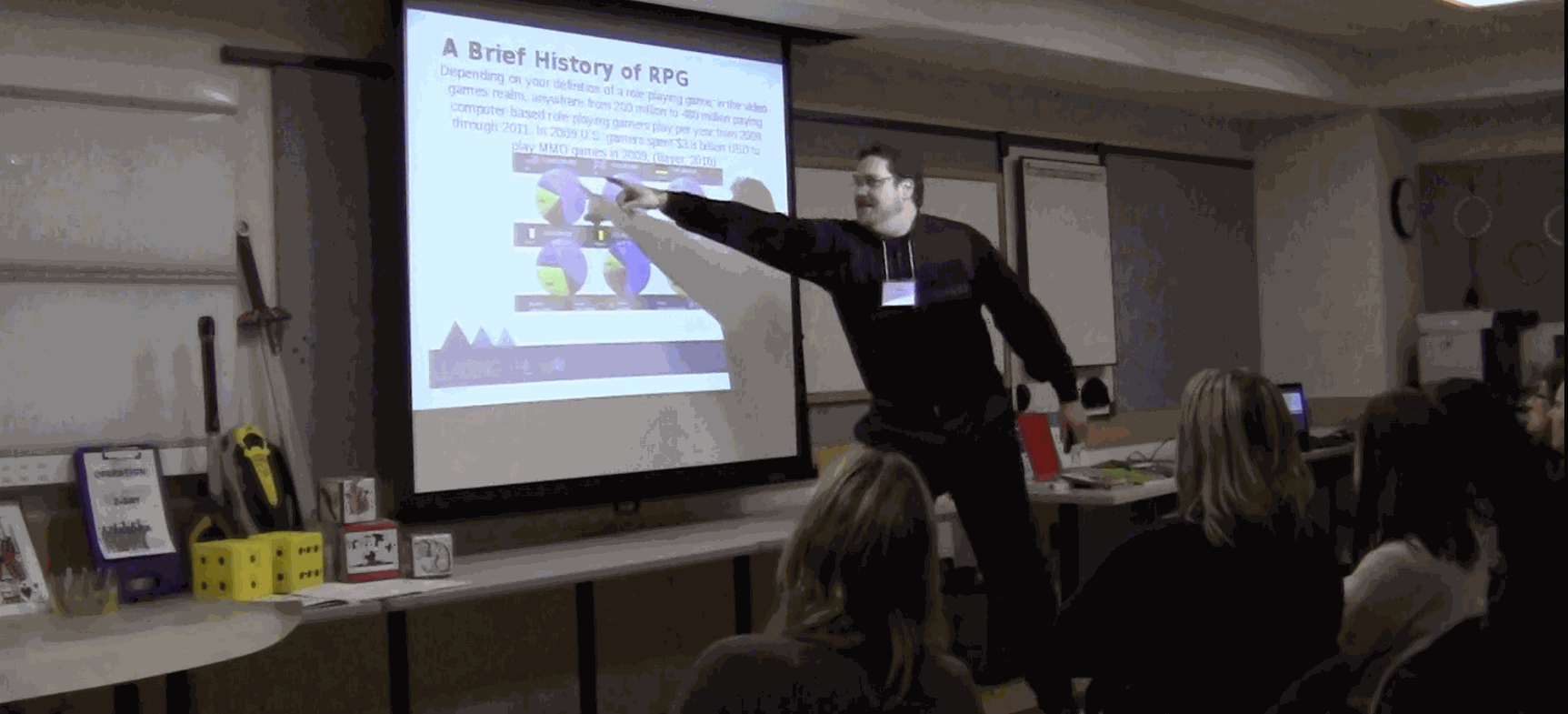 Two main pathways for training
Free: by volunteering at the non-profit RPG Research - https://rpgresearch.com/

Paid: by attending training workshops and online courses offered by RPG.LLC - https://rpg.llc
The RPG Professionals Workbook Series
First, you may want to purchase the "Role-Playing Game Professionals Level 1 Training Workbook - For Entertainment, Education, Healthcare, Therapeutic, & Other Professionals Using Tabletop, Live-Action, Electronic, & Hybrid Role-Playing Games to Achieve Measurable Results."
New Revised Level 1 Training Workbook Now Available
NOTE THIS IS A WORKBOOK NOT A STUDY GUIDE, IT IS A SUPPLEMENT TO USE WHEN UNDERGOING TRAINING. There are self-study guides in the works, but not yet published.
The RPG Professional Workbook is published by RPG Publishers dba, directly supporting RPG Research's free volunteer training programs, and RPG.LLC's professional training services, the latest enhanced and revised edition of this workbook is now available as of February 26th, 2021!
BUY THE LEVEL 1 TRAINING WORKBOOK ON AMAZON TODAY!
Note, 20% of all profits from sales of this book are donated by RPG Publishers dba to RPG Research. Also note the link goes to smile.amazon.com, select RPG Research as your charity of choice from the list, and then whenever you shop on smile.amazon.com a small percentage of all your shopping will be donated by Amazon.com to RPG Research at no added cost to you!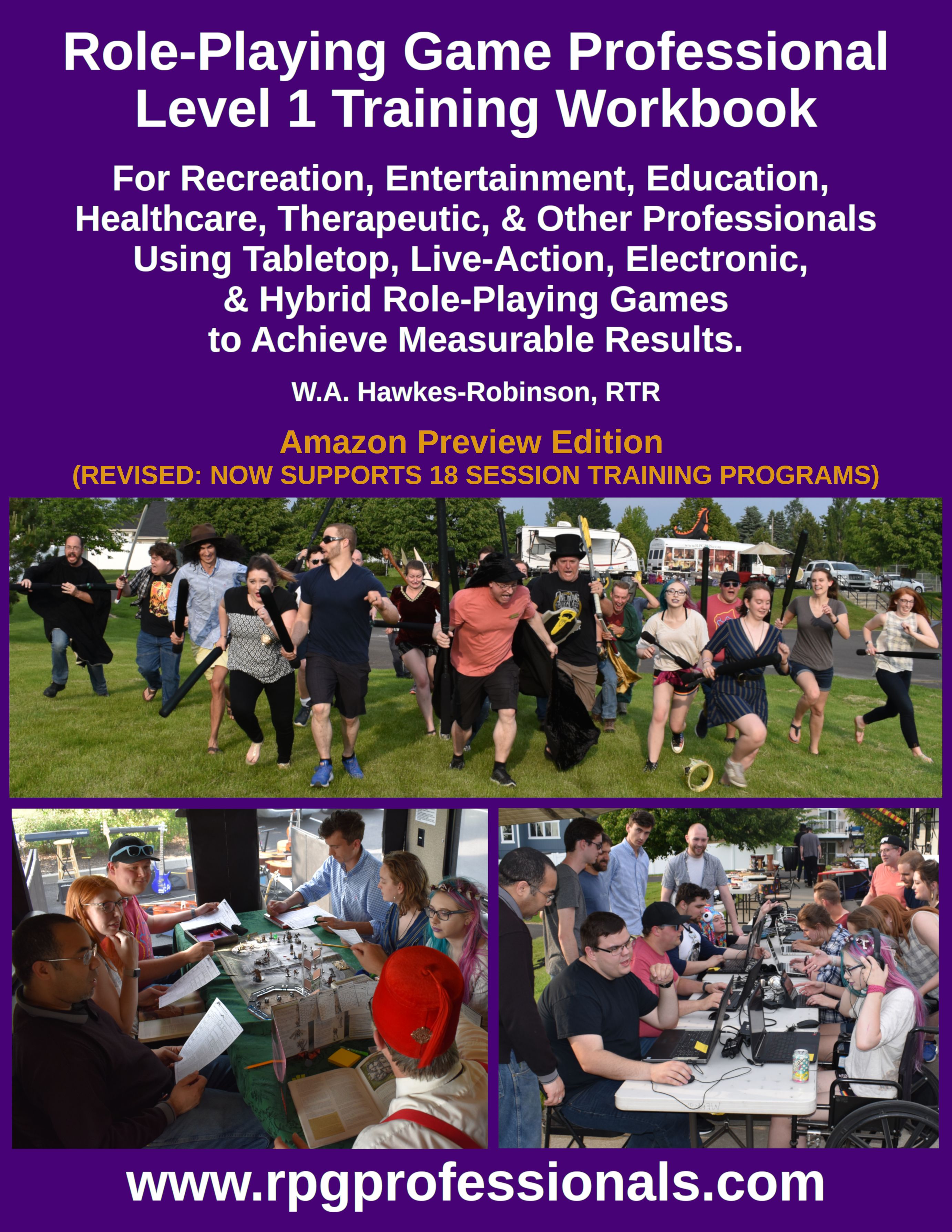 Then you will want to read through the rest of this page for the additional resources and steps you may want to take.

RPG Professional Trainees include the following professional foci on role-playing game use:
Education

Entertainment

Healthcare

Professional Development

Recreation


Therapeutic

and more
A Role-Playing Game Professional (RPG Professional) may come from many other professions, and offer role-playing games (RPGs) in many forms, across many different roleplaying game (RPG) formats, including but not limited to: tabletop RPG (TRPG/TTRPG), live-action role-playing (LARP), electronic (ERPG) / computer-based RPG (CRPG), and an endless array of hybrids (HRPG).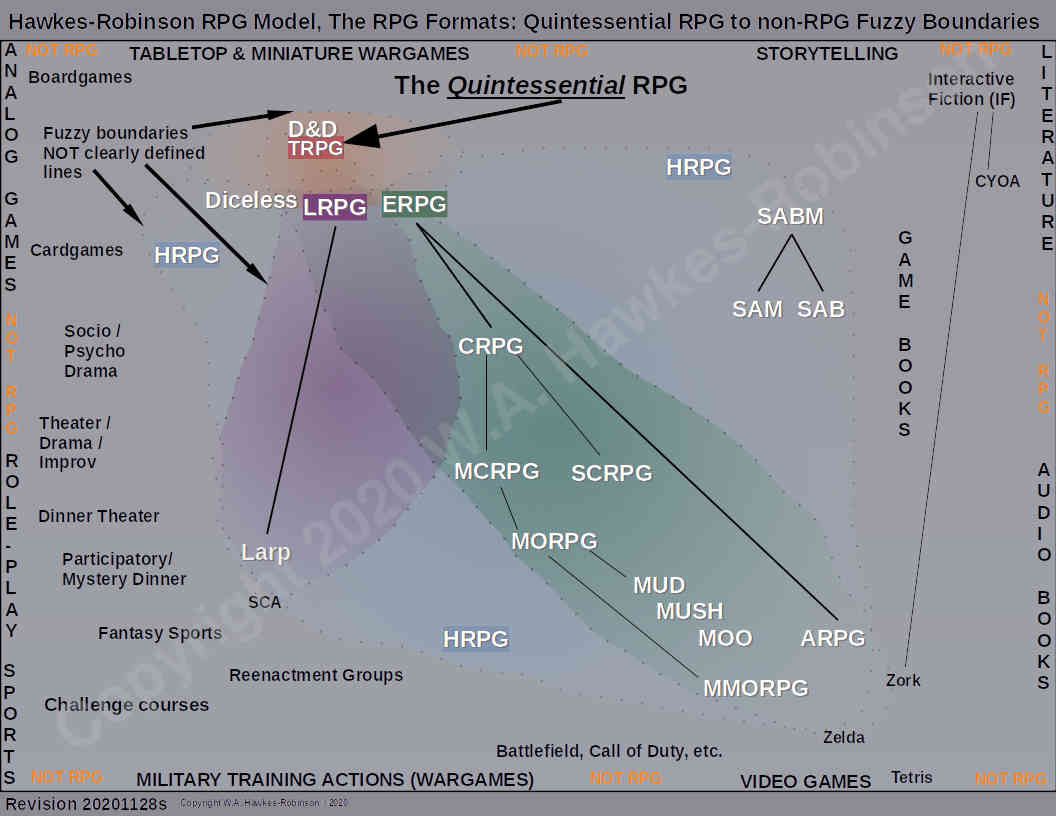 Some titles may include: professional Dungeon Master, Professional Dungeons & Dragons Dungeon Master, Professional Game Master, professional dungeon master service provider, professional D&D DM, and a variety of others.
The RPG Workbook is a WORKbook, not a study guide or instruction manual. It includes placeholders and pointers for the necessary information, but does not just hand you the answers. The book is filled with quiz questions and note space that you need to fill in the blanks (the answers are not provided in the book). You can find the answers through self-study or by attending an RPG Professionals Authorized Service Provider's Training Program
This workbook is useful for many people wanting to take their knowledge and skills regarding role-playing games to new heights!
Supported by decades of multidisciplinary research, hands-on experiences, evidence-based-practice in multiple fields, hundreds of internal publication and program revisions over the decades, peer review, and feedback from thousands of participants, the Role-Playing Game Professionals Level 1 Training Workbook is now available for purchase on Amazon.
The Amazon Preview Edition is now available in large format paperback and alternate eBook Kindle format.
This special Amazon early access preview edition workbook (8.5" x 11" and 300 pages) is currently on sale for $19.99 USD. It is designed for use in physical print. Though we offer a very inexpensive, $2.89 USD, version of the book in eBook format for reference and portability convenience we do not recommend trying to use the eBook for training unless it is to help with accessibility needs (text-to-speech enabled, screen readers, etc.) . Also the formatting of the eBook is a bit broken right now, and it will be some time before we finish cleaning up the eBook layout.

IMPORTANT NOTE: These workbooks are not study guides. They are designed as a support tool for guided training programs.
Authorized Service & Training Providers
This section of this page provides a list of Authorized CRPGP Service & Training Providers.
This section provide a list of authorized "Certified Role-Playing Game Professional" service and training providers we recognize as authorized to provide training and related services following our professional standards.
Note that each provider might only provide a subset of services or only a portion of the training covering our full list of qualifications for earning the Certified Role-Playing Game Professional certification.
For a list of currently Certified Role-Playing Game Professionals, see www.crpgp.com/certified-professionals/directory (coming soon!).
Interested in becoming an Authorized CRPGP services provider or trainer? Contact Us!
RPG.LLC / RPG Therapeutics LLC
For-profit, paid services.
Full range of professional service delivery, training programs, and certification programs.
Full range of services.
Online, mobile, and on-site services.
RPG Research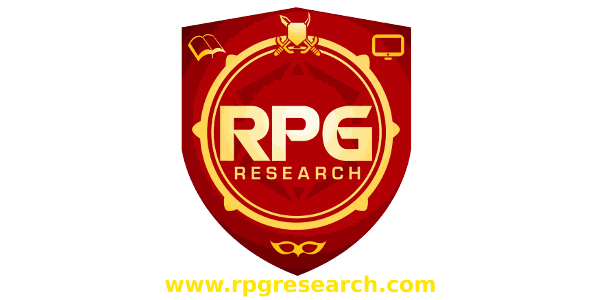 Non-profit, free services.
Donation and volunteer supported.
Services available online and on-site (limited on-site service delivery area).

Volunteer-run. Limited services, but extensive training options. Training diploma instead of full certification (potentially transferable to full certification).
A 501(c)3 non-profit research and human services organization studying the effects of all role-playing game formats. If you do not have the budget for our full training program, and you are willing to "give back to the community" as a volunteer trainee, this is an excellent option.
Training Options

Other Service Options

RPG.Education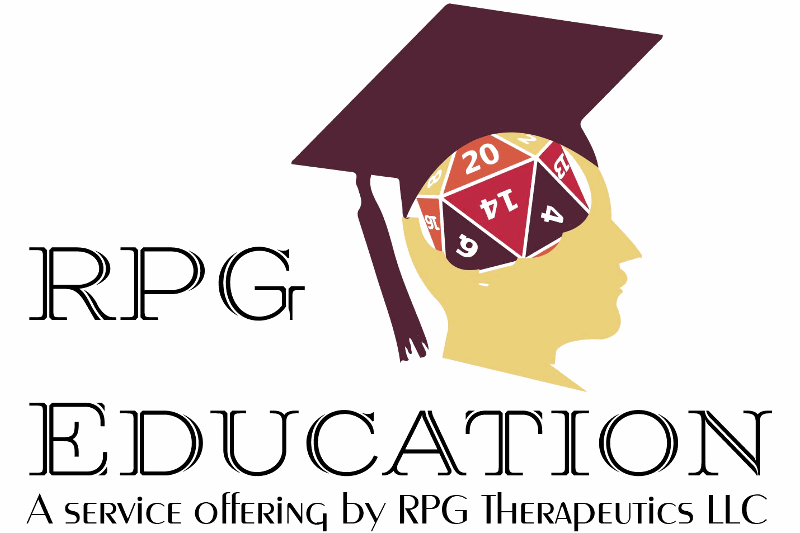 For-profit, paid services.
Only training and testing program options.
Includes self-study options, no other services delivered.
Provides all services online.
Other Potential Resources
Other Resources You May Want to Consider (Listing is not Endorsement)
The section contains a list of other resources. These resources are not currently part of the RPG Professional Providers network, and/or have not completed any of our professional training or service provider application requirements.
This listing is not an endorsement of their services.
However, as far as we know they are reputable service providers in their own areas of expertise.
Please do perform proper research and due diligence before engaging any service provider (including our own).
If you have any concerns, or would like consideration to add you or your organization to this list, please Contact Us.
More coming soon!